WELCOME TO SPARSH HAIR TRANSPLANT CENTER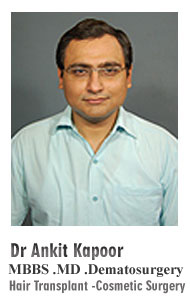 The Sparsh Klinic is a multispecialty, aesthetic cosmetic and hair transplant centre situated in most developed and posh area Gomti nagar of capital city of uttar pradesh, i.e. LUCKNOW.
Our surgeons are well qualified and experiences in plastic and cosmetic surgery with consistence good result. The cosmetic surgery experience of Dr. Ankit Kapoor is driving force in his involvement in Hair Transplant surgery. The team of Dr. Ankit Kapoor and Dr.(Mrs) Bhavna Kapoor is comprised of well trained technicians have gone through very extensive training and have very long experience of hair transplantation.
We provide WORLD CLASS TREATMENT AT BEST POSSIBLE PRICE all our patient coming to us from all corners of the world. Many patients visits us from USA, Canada, UK and Gulf Countries. We have earned very high reputation for being a center for quality of work along with hospitality and care during surgery and post surgery.
HAIR TRANSPLANT PROCEDURES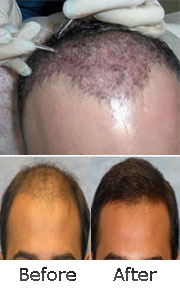 Hair transplant at our centre is done by experienced surgeons. We practice Follicular Unit Micro grafting (FUT) and FUE Techniquewhich is the latest technique followed all over the world with consistent results. Male and female patients who wish to undergo follicular unit micro grafting need not be completely bald. These micro grafts can be added in between the existing hair, without any damage to the adjacent hair roots.
Stitch less Follicular Extraction Technique (FoEx) and Body hair transplant can be planned for a suitable candidate. Planning an early hair transplant session, before your hair loss has reached an advanced stage has its advantages. Gradual hair loss is gradually replaced in stages. Your remaining natural hair provides good camouflage for the initial sessions. Your sessions can be well placed, even a few years apart. At any stage in your life you will never look as bad as you would have appeared without a hair transplant.